Facility Address:  350 Forbes Avenue, Pittsburgh, PA  15222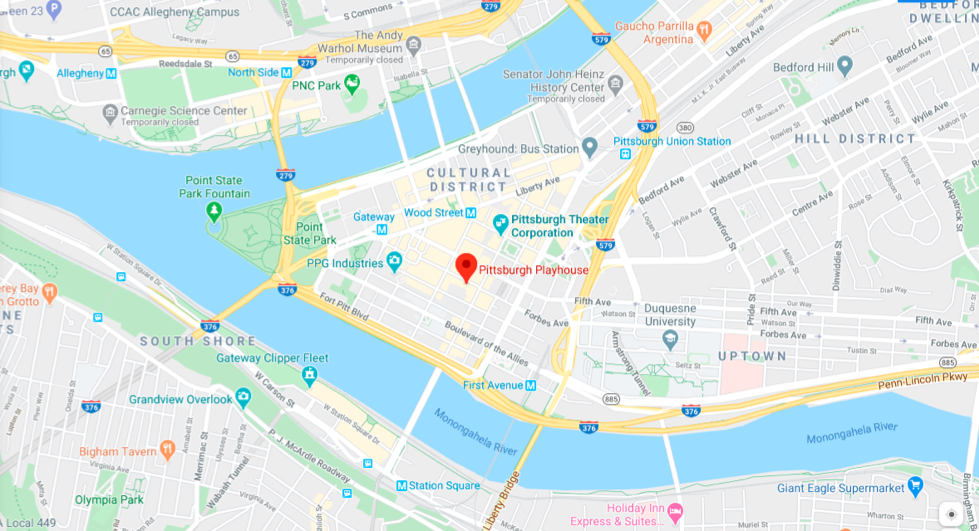 Parking:
On-street metered parking is available along Forbes Avenue and adjacent streets at Pittsburgh Parking Authority hourly rates.
The nearest public parking garage is located at the Hilton Garden Inn, 250 Forbes Avenue. Other garages and surface parking lots are located downtown at various rates; many have discounted rates beginning at 4pm. Please note that some may be cash only. Check out these additional parking resources from our friends at the Pittsburgh Downtown Partnership.
Playhouse 6+ Show Subscriber Parking:
Playhouse Subscribers who purchase 6 or more shows receive complimentary parking in The Tower at PNC Plaza garage located directly across from the Playhouse entrance on Forbes Avenue. One parking pass will be provided for each eligible performance, subject to availability. One set of passes is issued per account. To accommodate exchanges, parking passes may be used for any date of a performance. Please note this is only applicable for events that are primarily produced by the Pittsburgh Playhouse and does not apply to external rentals. 
The Tower at PNC Plaza parking garage opens 60 minutes before curtain. Follow the signage to the garage, provide the attendant with your parking pass at the entrance, and take the elevators back up to street level. If an attendant is not there, please press the "help" button on the kiosk when entering the garage. The garage is re-accessible following a performance through the main entrance of The Tower at PNC Plaza on Fifth Avenue.
For parking questions, please contact the Pittsburgh Playhouse box office at (412) 392-8000.
EV Parking and Charging: 
Third/Fourth Avenue Garage: 238 Fourth Ave, 1100ft away. 8 EV spots located on the 2nd floor and clearly marked. 
One Oxford Centre Garage: 339 Cherry Way, 1100ft away. 8 EV spots available. 
Directions to Playhouse:

From the East:
Take I-376 W/US-22 W to Exit 71A Grant Street. Continue straight on Grant Street and make a left onto Forbes Avenue.
From the West (Airport):
Take 1-376 E to Exit 71A Grant Street. Continue straight on Grant Street and make a left onto Forbes Avenue.
From the North:
Take US-19 Truck/McKnight Road. Merge onto I-279 S and take the 7th Avenue/6th Avenue Exit from I-579 S/Veterans Bridge. Keep left and follow signs for PPG Paints Arena 6th Avenue and merge onto Bigelow Blvd. Turn right onto Sixth Avenue, followed by a left onto Grant Street and then right onto Forbes Avenue.
From the South:
Take PA-51 N. Use right lane to take US-19 S Truck ramp to Downtown/S Side/Dormont/I-579. Use right two lanes to turn right into Liberty Tunnel. Continue through Liberty Tunnel and turn slight right onto Crosstown Blvd. Turn left onto Forbes Avenue.
Public Transportation
Pittsburgh Regional Transit offers a variety of buses, "T" light-rail service and inclines to get you to the theatre. For schedules, rates, schedules, and general information about these services, visit the PRT website at rideprt.org or call 412-442-2000.